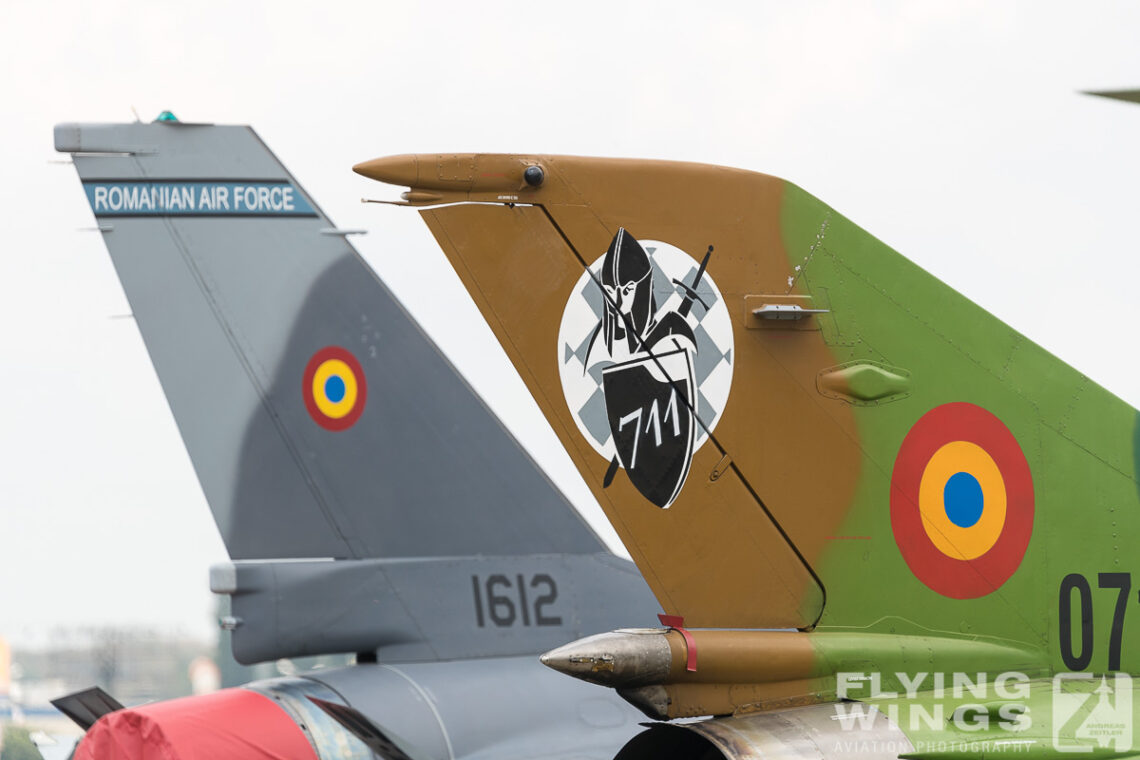 Bucharest International Air Show 2018 – BIAS
It's free, it's fun, and it is a day packed with a nearly 12 hour long lasting flying display. The Bucharest International Air Show (BIAS 2018) is the largest air show in Romania and took place on Saturday, July 28, 2018, at Bucharest International Airport Baneasa. With a slow start of the flying display at 9am in the morning, it really kicked of with the opening fly-by of Forțele Aeriene Române / Romanian Air Force (RoAF) F-16s. The flying then continued with only a short 30 minutes break in the afternoon until after sunset with many more highlights.
Where? Bucharest, Baneasa Airport, Romania
When? 28 July 2018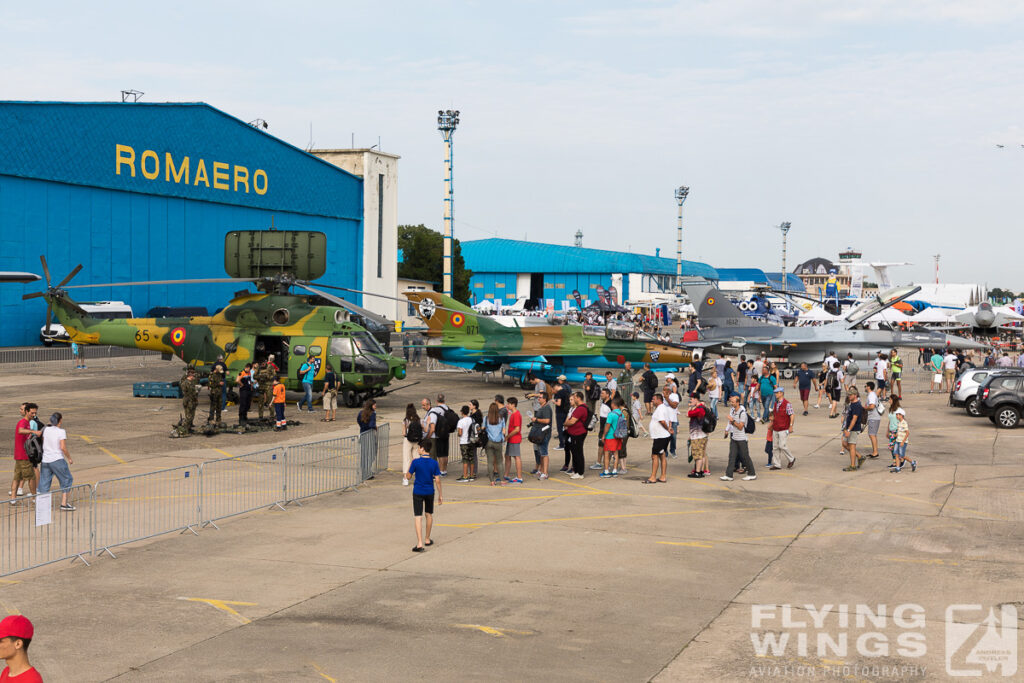 It was the 10th edition of the event and coincided with the Centenary of Romania. The Bucharest International Air Show (BIAS) receives high attention as it is under the patronage of the Ministry of Transport, the Ministry of National Defense and the Ministry of Economy. Another strong backing for the show was the Aeroclubul României / Romanian Aeroclub. And it was amazing to see all the effort that is going into an airshow that does not cover a full week-end, but only a single day.
Bucharest International Air Show BIAS – a 12 hour aviation spectacle!
But BIAS is not only an airshow. It finishes with spectacular fireworks, a free concert and it is a great day out. Going there, having a great time, maybe going home to avoid the afternoon heat and returning for the early evening was an option that many visitors opted for. And it was surprising to discover the most popular 'food' that was served during the show: popcorn, which is quite a contrast to the usually meat-loaded plates that one would expect in Romania. So it was more like a day at the cinema than a 'hardcore' airshow. However, the performers were not seen on a screen, but live and high in the sky over Bucharest.
Even though the BIAS airshow was only a single day, it felt like that day in Bucharest was packed with flying displays sufficient for two days. Actually most participants flew twice that day, and this was not only valid for the civil presentations, but also for the fast jets and military display teams. Certain aerial demonstrations of the Forțele Aeriene Române / Romanian Air Force (RoAF) were even shown three times!
Fortele Aeriene Române / Romanian Air Force (RoAF) on Display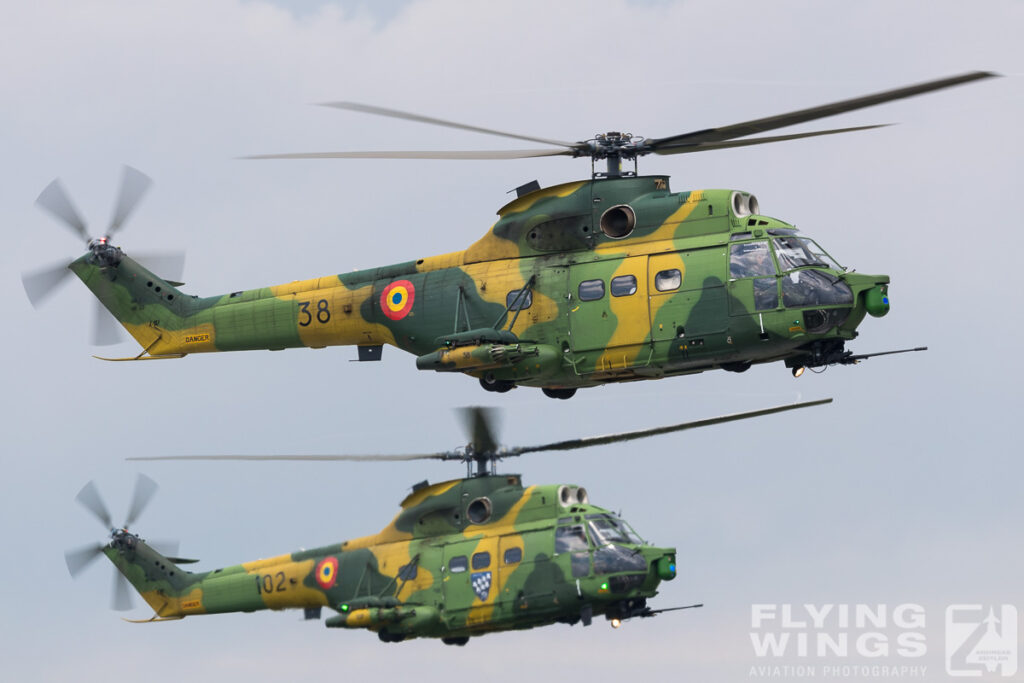 As such many aircraft and helicopters of the local air arm could be seen throughout the day in the sky over Bucharest. This included presentations of the F-16AM Fighting Falcons, an aerial interception demonstration of two F-16s and a C-130 Hercules, and helicopters and also played a big part. A total of 12 IAR-330 in different configurations performed a fly-by, and IAR-316 Alouette III helicopters flew a ballet-like demonstration. Finally also a four-ship formation of RoAF Yak-52 performed at BIAS2018. Unfortunately as a strong drawback for the flying display the participation of Romanian Air Force's own and popular MiG-21 LanceR in the flying display was cancelled due to a fatal accident in the weeks before the show. And the much awaited C-27J Spartan releasing flares during the evening airshow did not show up.
Turkish Stars and Polish Iskra Display Teams and foreign Fast Jet Displays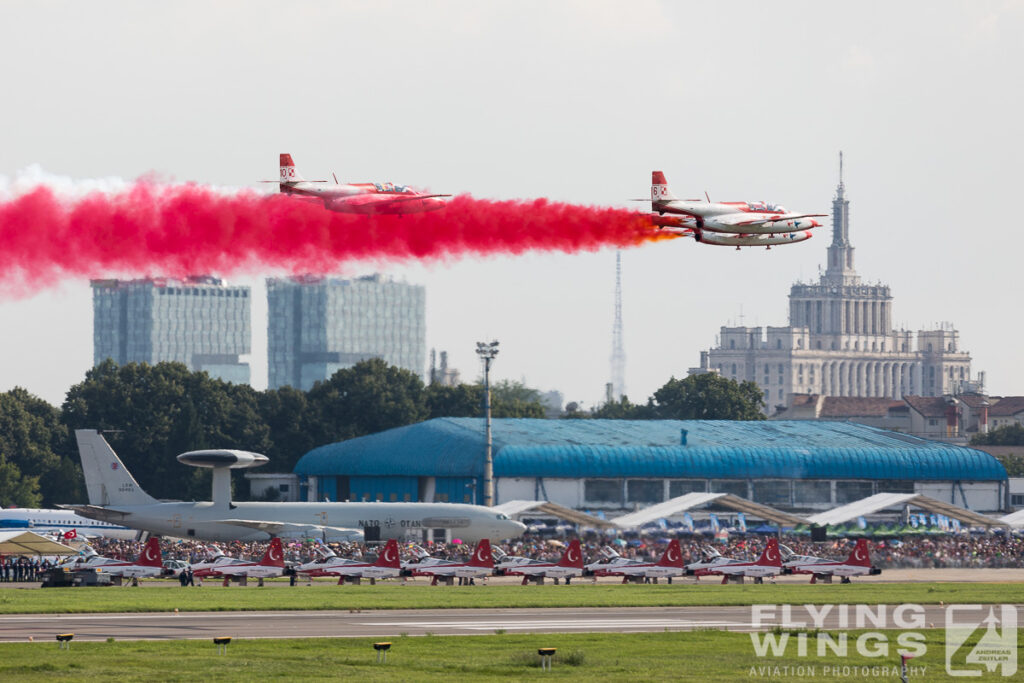 But local visitors were more keen to see the aerial demonstration of the Turkish Stars / Türk Yıldızları display team flying the supersonic Northrop NF-5A Freedom Fighter, which were the obvious highlight at BIAS 2018, and the Polish Iskras, or Red-White Sparks. Foreign air arms participation was present by the Czech and Hungarian Saab Gripen, the Austrian Air Force Saab105OE, and the Spanish Air Force EF-18 Hornet, which presented an impressive demo with plenty of high angle-of-attack maneuvers.
Romanian Aviation on Show and The Flying Bulls
A nice local touch was the fly-by of a Romanian national Airline Boeing B737 in formation with four Extra 300. Another cool flying display was Valer Novac's flying in the Kamov Ka-26 helicopter. It's a rare helicopter, has a funny shape, and was thrown around quite a bit by its pilot to show the agility of this platform that is usually used for crop dusting tasks. The Romanian Aeroclub participated strongly with Aerobatics, parachutists jumping out of Blue Wings Antonov An-2, the White Wings sailplane duo, a 3-ship formation of BN-2 Islanders and last but not least Jurgis Kairys in his Su-31. Kairys was also to perform after sunset in formation with Yak-52s as the "Air Bandits" in combination with pyrotechnics on ground and in the air.
Last but by far not leas the Flying Bulls from Salzburg were also quite active. With several solo displays during the day they have put up a spectacularly coordinated routine with the B-25 Mitchel, F4U Corsair, P-38 Lightning and two Alpha Jets when the sun was already low over the horizon.
Weather Luck and a Full Day of Flying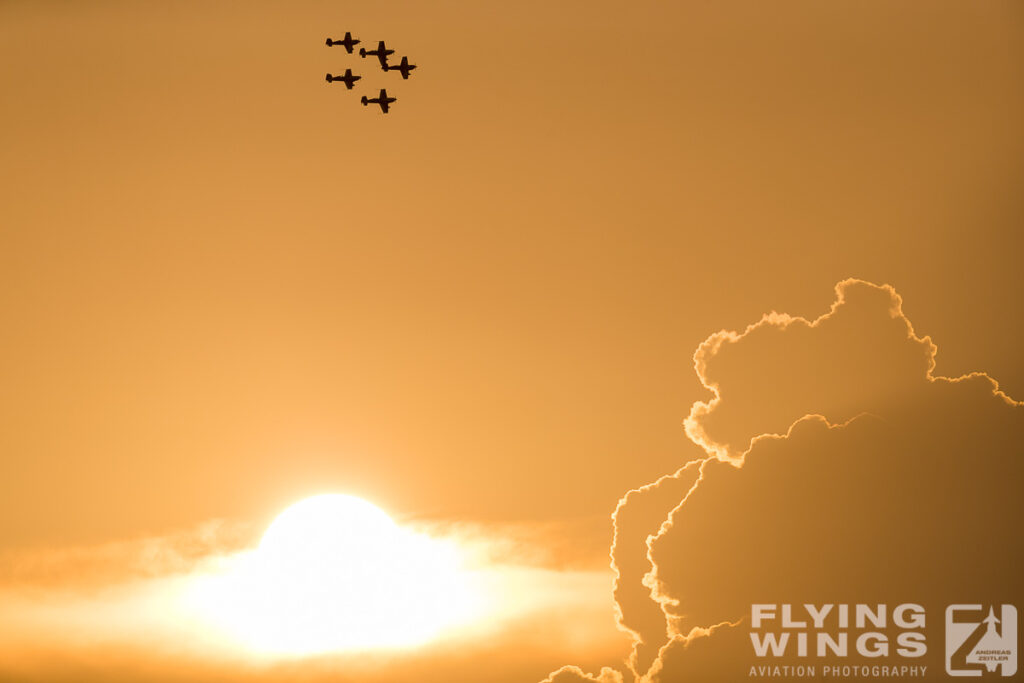 In retrospective the Bucharest International Air Show (BIAS 2018) was a great showcase of Romanian aviation. Held at the end of July it was a red-hot battle this year, but this was a lot better than standing in the rain that was seen pouring down only some kilometers away. Compared to other European events it was amazing to see that a full day of flying was offered for free, and obviously very well accepted by the public. Especially for foreign visitors of the show the hope is that future editions of BIAS will still see the participation of the legendary MiG-21 LanceR, a jet that has shaped the Romanian Air Force for many years.
Bucharest International Air Show 2018 / BIAS – Photo Gallery